Description
About Morinda Roots
Bagh Print Saree dyed with root bark of morinda roots a species of morinda tree family. This is a result of constant exploration and search we got a different species of Indian Morinda roots which gives shades of yellow to brownish shade depending upon the age of roots and water quality. 
This yellow color is a result of dyeing with color extracted from root bark of morinda after alum printing done in Bagh print technique.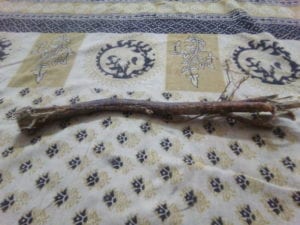 Morinda Roots 
This is a one of its own kind of work innovated by EcoFab. It is an application of new natural and herbal dye in traditional hand block printing. It required efforts to explore, experiment and executing it into traditional process, it becomes a master piece work.